In this week's Executive Interview Series segment, its Part II of the discussion between IRPA AI's Frank Casale and Jeff Wald, founder of WorkMarket, an ADP company and author of "The End of Jobs: The Rise of On-Demand Workers and Agile Corporations" to discuss the future of jobs.
In part 2 of the two-part series, Frank and Jeff address:
– what advice could be given to someone just entering the labour force?
– the importance of being a life-long learner
– the increasing demand for jobs that are hard-tech and/or hard-human
– what is meant by an agile enterprise
October 25, 2021 💥UiPath announces partnership with Snowflake, the Data Cloud company to enable RPA analytics at scale. This combined offering of #UiPath with #Snowflake's compute, elastic scaling, and enterprise-grade
Read More »
Latest News in Intelligent Automation  Week after week, Intelligent Automation is getting more powerful supporting clients, patients, employees, companies and making our world more human.
Read More »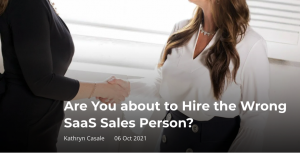 Articles, White Papers
All SaaS is not created equal. The once SaaS pioneers, who were industry disruptors, today are more like the industry old guard (i.e., Salesforce.com, NetSuite).
Read More »