Effective application of digital process automation (DPA) requires incorporating a complex mixture of strategic consulting, industry experience required for process mining and redesign, and a deep understanding of various technologies that includes but is not limited to – business process management, robotic process automation, low/no code automation and artificial intelligence/machine learning.
Process automation plays a critical role in digital transformation. While recent cloudification movements have led many organizations into advancing their DPA-focused strategies, the most compelling recent market event that is pushing organizations to drive more automation and modernization is COVID-19. Corporate growth, and in some cases survival, rests on an organization's ability to rapidly re-engineer their core business processes and technology platforms as well as train and enable their internal talent. 
With over 300 DPA-classified software platforms and tools on the market, selection of the right services partner to help you choose the right technology and subsequently build resilient platforms is a key success factor. The right partner is not just  a consulting and implementation partner but also as an active participant in core engineering efforts of DPA providers to help them construct their next generation platforms. The degree of difficulty for successfully designing and delivering complex process automation programs is exceptionally high and can be contested that it should be done with specialists over generalists.
Example Use Cases
Using DPA to Save American telco giant $1M a month
A telecommunications product and service provider who works with over 150 million subscribers needs to continuously service a high volume of customer requests for sign up, bill payment, or other issue resolution. The client's existing process did not take customer intent or previous activity into consideration for future interactions. This resulted in a disjointed customer experience, increased operating costs, and caused missed revenue opportunities. 
North America's largest life insurance provider accelerates policy issuance through DPA
 North America's largest life insurance provider was looking to reduce the policy issuance cycle time significantly and wanted to  automate highly manual processes This enabled the client to significantly speed up their policy issuance by 70%. It determines risk levels and pricing, and ultimately the projected profitability of each policy. The process from application intake to policy issuance took an unusually long time – 45 days, which the client was keen on improving. 
Leading Australian bank implements DPA to Reduce time-to-market by 50%
The client's credit risk application was labour-intensive, and implementing changes was cumbersome. With the application approaching end of life, the client decided to modernize its credit scoring process by implementing automation. This helped the client scale according to its needs, with higher efficiency, greater visibility, and significantly lower operational costs.
Leading U.S. health insurance provider reduces call handling time by 20%
The client's customer service engagement depended on a disparate legacy system that was unable to address the increasing demand for timely resolution of customer issues. As a result, the client experienced a low customer satisfaction score and reduced operational efficiency. An integrated solution that is cloud native and driven by AI, Decisioning, Robotics, and seamless channel integration upgraded the legacy platform and re-engineered an end-to-end customer relationship management system to help the client gain 25% higher operational efficiency.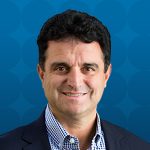 TO SPEAK TO AN EXPERT OR REQUEST USE CASES: