AUTOMATION INNOVATION NEW YORK 2015

This December saw the fruition of our second annual Automation Innovation conference. And what a difference a year makes! Building on the momentum of our first event in 2014 which attracted early adopters and those curious to learn about RPA; this year we Sold Out our New York event and came just shy of selling out our first-ever event in London. If you attended, you would have seen many logos you were familiar with and a whole host of new ones.
This is a real testament to the maturing of the marketplace in the short span of 12 months with a number of new entrants, new capabilities and new value being delivered.
This year's conference theme, "Preparing for 2016 - the Year of the Robot" , was embraced through lively and engaging discussions on the latest trends and developments in autonomics, AI, and cognitive solutions integrating with RPA,
the impact these solutions are having on the outsourcing ecosystem, real world use cases and through thought leadership presentations from the leading RPA technology & service providers in the industry.
A majority of the presentations and discussions served to underscore the fact that we as an industry have truly arrived! We are on the other side of pilots and proof of concepts and are starting to see real traction as RPA, AI and cognitive technologies have matured.
The dialogue has also shifted in a significant way, moving beyond discussions where technology replaces people, to technology working with people to augment labor, increase performance and lower costs and offering streams of value. The impact of RPA on performance and compliance benefits is coming to the forefront as buyers realize the value beyond cost save.
Welcome to 2016, The Year of the Robot!
On this site you can review presentations, view the photo gallery and review the entire conference agenda.
Message from the Conference Chairs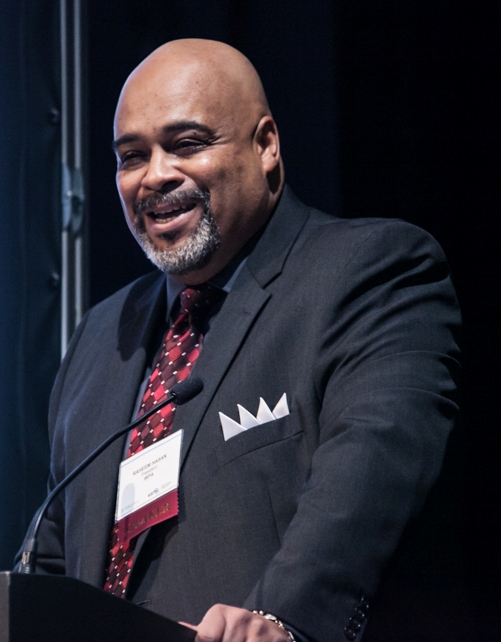 Raheem Hasan, President and Co-Founder
Institute for Robotic Process Automation
I am delighted to say we had a record 500+ registered attendees at our Automation Innovation conferences with almost half of the attendees representing the buyer community, a real testament to the maturing of the RPA marketplace. People gathered from near and far to learn about the technology and to hear from the providers in this space, attending packed and riveting sessions, discussing and debating the latest trends and hot topics in intimate panels and exploring our exhibitor's offerings.
What struck me most, was that each time I walked out of our main room, 40-50 people were seating in individual meeting spaces deep in discussions. Automation Innovation's underlying success was the invaluable opportunity it provided to network with old friends and new -- and the relationships that were established or enhanced because of this event.
We offer a huge thanks to all who attended, participated and made the conference the great event it was. We are looking forward to hosting next year's Automation Innovation as we move from understanding the technology more deeply to witnessing its tangible results.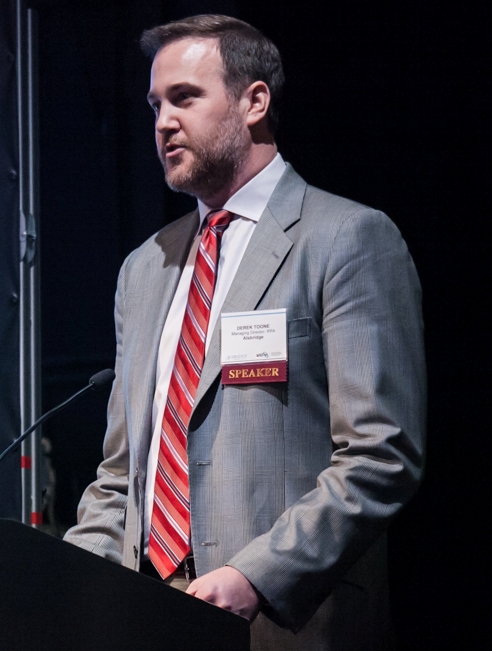 Derek Toone, Managing Director
RPA Advisory Services, Alsbridge
Alsbridge has been pioneering the RPA space for several years now, and this is the second year that we co-chaired IRPA's Automation Innovation conference. The conference was given the moniker the "Year of the Robot" and lived up to the vaunted billing with almost half the attendees coming from Fortune 500 companies using RPA and the other half from leading RPA analysts, consultants and software vendors. The thought leadership brought to the conference by the presenters was exceeded only by the outputs of the day's collaboration with the attendees.
Truly a great event forging the path ahead for Robotic Process Automation in the years to come.
AUTOMATION INNOVATION AGENDA 2015
The future of outsourcing is here and its impact is impressive. This one-day experience is geared to educate and inform you of the transformation of outsourcing and what it means for the future of careers and business processes. While the nascent disruption in outsourcing is still a mystery to most in the industry, the onset of Robotic Process Automation has begun... Don't let your business be left behind.
Just as industrial robots have transformed the manufacturing industry by creating higher production rates and improved quality, robotic virtual machines are revolutionizing the way you will administer business, IT, support and workflow processes.
"It's Time to Prepare for 2016, the Year of the Robot!"
Raheem Hasan, President & Co-Founder
Institute for Robotic Process Automation
INSTITUTE FOR ROBOTIC PROCESS AUTOMATION
IRPA is an independent professional association and global network for the buyers, sellers and influencers in the robotic process automation/autonomics arena. We are considered to be the go to/independent source for latest market trends, best practices, case studies, thought leadership, peer networks, early-bird event invitations, assessment and advisory services, member help services, speaking opportunities, and much more on robotic process automation. To learn more and opt into our free global community visit www.irpanetwork.com.
For General Information, please contact:
Raheem Hasan, President and Co-Founder of IRPA
+1 (516) 403-2048 x750
raheem.hasan@irpanetwork.com
For Sponsorship Information, please contat:
Randi Zerwitz, Projects team, IRPA
+1 516-279-6850 Ext.705
helpdesk@irpanetwork.com

Upcoming Events
In 2016 the reality of RPA will take form: Make way for the Year of the Robot! IRPA intends to keep you informed with regional events, conferences, expert TV sessions, thought leadership and much more! IRPA's 2016 events calendar will also include Automation Innovation events for both the US and Europe, all to be announced early in Q1... Stay tuned!

Knowledge Forum
The IRPA Knowledge Forum provides marketplace intelligence from the pioneers and thought leaders of robotic process automation. View the latest white papers, expert commentary, case studies and best practices. Learn how practitioners, service providers and influencers are leveraging RPA to deliver unprecedented cost savings, gains in quality and productivity for their companies and customers. Subscription is free for members.

Sponsorship Opportunities
IRPA can develop and execute sales/marketing strategies across a number of areas including content marketing, campaign management, sales enablement, training programs, deal brokering, and channel and event marketing. We design and manage demand-generation programs with outreach to IRPA members and the 70,000 members of the Outsourcing Institute.