AUTOMATION INNOVATION NEW YORK 2017

How do you compare against your peers in the race to the digital workforce transformation?
The 4th Annual Automation Innovation Conference was a huge success and is the first and only association-run automation event, focusing on "Exploiting the Second Wave" of automation, including RPA, intelligent automation and artificial intelligence.
Those of you who attended had the opportunity to meet members and industry peers who are focused on building a foundation of knowledge. Additionally, you were able to get first-hand insight from case studies, industry successes and lessons learned through thought-provoking discussions, interactive panels, hours of valuable content and networking with thought leaders, influencers and potential resources.
You were able to get a deeper understanding of topics like:
Machine Learning to the Rescue – A Google Perspective!
Shifting Gears into the Second Wave
How to Define and Ensure Success of an Automation Implementation?
Integrating Multiple RPA & AI Platforms and AI Platforms & Providers – The New Governance "Opportunity"
PNC's Transformation Toolkit: Why Combining RPA with Cognitive is Essential
OnProcess Technology's Journey to Automation
2018: The Shift to Enterprise AI
Robots Took Our Jobs - Automation's Impact on the Workforce
Building a Comprehensive Business Case for Automation and AI
Point-Counterpoint Panel: Opinions on Bill Gates's Proposal for a Robot Tax
RPA – A Major Cog in Microsoft's COGS
Artificial Intelligence and Robotic Process Automation - Boom or Doom?
Building a Digital Workforce
Gaining Competitive Advantage Through Digital Transformation Journey
Automation and Artificial Intelligence Across the Enterprise
Artificial Intelligence and Cognitive Computing: A Vision for the Future 
We continue to push the digital envelope, and leverage our global ecosystem to deliver the best speakers and the most interactive audience. On this site you can review presentations, view the photo gallery and review the entire conference agenda.
Message from our Conference Chairs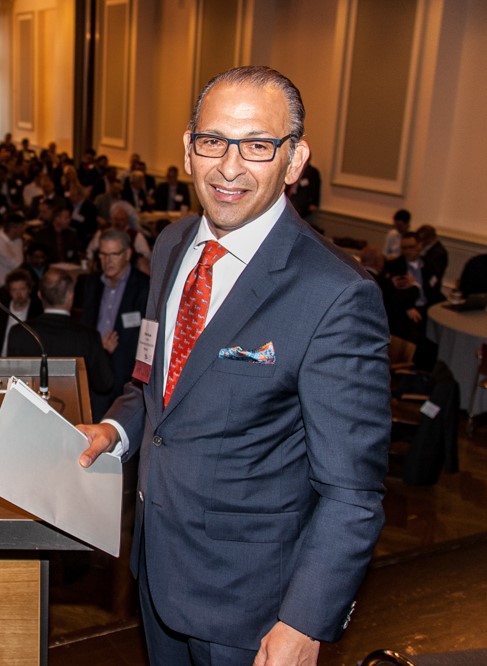 Frank Casale, Founder & Chairman Emeritus
IRPA Network and Outsourcing Institute
If the turnout at our 2016 Automation Innovation Conference was any barometer of growth in US interest in and acceptance of RPA and intelligent automation then, our original prediction that 2016 would be the "Year of the Robot," was on target!
We quite honestly would have been content having 200 in the room yet like in 2015, however, we exceeded 300 attendees. It was truly a sold out and standing room only event. Apologies to those of you that we had to turn away. We believe we were one attendee away from a visit from the NY fire department. Talk about disruption. Okay, enough of the post event hype and onto our key takeaways for the many who missed the Digital Woodstock of 2016. After the good many presentations, breakout sessions, panels and individual meetings, the following are a handful of thoughts and themes that stuck with us:
From a demographic standpoint, we had an audience that I have divided into three categories:
Those that got off to a good start with RPA or the like.
Those that got off to a false start.
And those that haven't started.
Which one are you?
While the bulk of the questions the 2015 attendees were about definition and description, strategy was clearly top of mind in 2016. Strategy and roadmaps. For the more advanced practitioners (the ones that got off to a good start) cognitive and AI was clearly top of mind, as was overall governance.
We offer a huge thanks to all who attended, sponsored, participated and made the conference the great event it was. We are looking forward to hosting next year's Automation Innovation.
AUTOMATION INNOVATION AGENDA 2017
The application of enabling technologies that allow computer software, known as robots, to manipulate existing software applications as if they were a human being.
Intelligent Automation provides dramatic improvements in accuracy, cycle time, and increased productivity in transaction processing, while it elevates the nature of work by removing people from repetitive tasks. As a best practice, it is advisable to view Intelligent Automation as a method for performing almost any activity that can be performed by a human being, who performs a task by interacting with a variety of computer systems.
"IT'S 2017, THE YEAR OF THE ROBOT!"
Raheem Hasan, President & Co-Founder
Institute for Robotic Process Automation
INSTITUTE FOR ROBOTIC PROCESS AUTOMATION
IRPA is an independent professional association and global network for the buyers, sellers and influencers in the robotic process automation/autonomics arena. We are considered to be the go to/independent source for latest market trends, best practices, case studies, thought leadership, peer networks, early-bird event invitations, assessment and advisory services, member help services, speaking opportunities, and much more on robotic process automation. To learn more and opt into our free global community visit  www.irpaai.com.
For General Information, please contact:
Raheem Hasan, President and Co-Founder of IRPA
+1 (516) 403-2048 x750
[email protected]
For Sponsorship Information, please contat:
[email protected]

Upcoming Events
Check back for upcoming events!

Knowledge Forum
The IRPA Knowledge Forum provides marketplace intelligence from the pioneers and thought leaders of robotic process automation. View the latest white papers, expert commentary, case studies and best practices. Learn how practitioners, service providers and influencers are leveraging RPA to deliver unprecedented cost savings, gains in quality and productivity for their companies and customers. Subscription is free for members.

Sponsorship Opportunities
IRPA can develop and execute sales/marketing strategies across a number of areas including content marketing, campaign management, sales enablement, training programs, deal brokering, and channel and event marketing. We design and manage demand-generation programs with outreach to IRPA members and the 70,000 members of the Outsourcing Institute.
"The IRPA AI Conference in NYC on DEC 5-6 was terrific. The list of speakers was relevant and covered many important and timely issues in AI and RPA. The setting was idea for a conference of this size, and we were kept happy with good food and drink. I would recommend any professional in the AI/RPA industry to attend future conferences conducted by IRPA AI."
-- James Young, Founding Director of Data Science, Department of Mathematics, College of Charleston
"My team enjoyed the learning and collaboration opportunities of this conference, specifically being able to scout out different software vendor solutions and the breakout sessions in which we were able to brainstorm and work with other companies on the COE in a more intimate setting. That is where we believed there was most value- add for us in regards to where we stand today in our own RPA initiative."
-- Blenda Hoang, Financial Analyst, Adobe Systems Inc.
"Congratulations to Frank and Team at IRPA/IA on another successful Automation Innovation Conference. This year's was by far the best to date. It provided a clear view of where we are and insights on future direction. It helped to get past the hype in the market. The case studies on the issues companies faced and the approach they took was hugely helpful. Very worthwhile, glad I went!"
-- Time Leger, SVP Business Process Transformation, Sutherland
"The IRPA AI conference was an excellent source of techniques, best practices and business cases. Top notch speakers, a great learning and networking experience."
-- Laurel Dahms, Optimization Initiatives Manager, RBC Wealth Management
"I thought the conference was great. I enjoyed hearing about the implementations at different companies and understanding the challenges in the industry. I also enjoyed seeing where the industry is moving and the advancements in technology."
-- Sean Roemmich, Software Engineer, Capital One
"I have attended the four IRPA events over the past three years and this was the best yet. Great line up of speakers, fast moving pace, greatest number of exhibitors and attendees. Also, good mix of RPA and AI."
-- Graham Russell, BPO Director, WPP Group
"Thank you for the opportunity to grasp overview of the RPA trend and it was very informative for us."
-- Hiroyuki Keisho, Managing Director, MUFG Union Bank
"The IPG team would like to thank you for organizing the event. It was very informative. Additionally, we felt it was very professionally pulled together. We learned a lot and the sessions reinforced our commitment to Intelligent Automation. We already look forward to the 2018 Conference."
-- David Graham, Senior Director, Global SAP Competency Center, Interpublic Group
"The IPG team would like to thank you for organizing the event. It was very informative. Additionally, we felt it was very professionally pulled together. We learned a lot and the sessions reinforced our commitment to Intelligent Automation. We already look forward to the 2018 Conference."
-- David Graham, Senior Director, Global SAP Competency Center, Interpublic Group
"The session was very interactive and informative, as the opportunities for companies to leverage AI, BOTS and automation efforts to transform their operations and grow scale are tremendous – but only if you know what you are doing! This session began to address some fundamental barriers that organizations must overcome if they want to be successful."
-- Rohail Khan, Chairman & CEO, SkillsInternational
"This conference provided valuable insights, level-setting on terminology and concepts, and a sense of community support. I am now better prepared to help my company navigate the risks and opportunities as we embark on our automation journey."
-- Andy Brown, Business Architect, The Standard
"IRPA & AI did a fantastic job organizing and delivering an outstanding 4th Annual Automation Innovation Conference on Dec. 5th in NYC. The quality of speakers were extraordinary, the venue fit this size group perfectly, and the breaks, exhibit halls, and meeting rooms provided plenty of opportunities for networking!"
-- Jeff Gundersen, Chief Executive Officer, Executive Connections
"Although I was not able to attend the event, I heard highly positive feedback from my colleagues, and they are energized by all the information, ideas and contacts made at your conference. They especially liked the one on one interactions with the various vendor representatives on site. Congratulations on putting on a great event."
-- Gordon Ho, Director, Sumitomo Mitsui Banking Corporation
"The 2017 Automation Innovation Conference gave our team an opportunity to participate and advance the conversation around the fast-moving automation space. Thought leaders and practitioners came together to share perspective and outcomes to move the industry forward. I received positive feedback from our team, and personally I thought it went very well."
-- Regina Sobieray, VP, Analyst & Advisor Relations, Sutherland
"Very well-run event, great speakers, great venue, excellent staff."
-- Michael Picone, Project & Process Manager, KBC Bank
"The 4th Annual Automation Innovation Conference was a truly beneficial forum for not only myself but for the firm as we pursue RPA and further development in automation. The main conference allowed us to network directly with practitioners who have gone through the journey that we are about to embark on. We truly appreciate the opportunity and generosity of IRPA AI to coordinate this event and many more over the year. We look forward to future opportunities and thank each member of IRPA AI who have worked on this event."
-- Michael Trinkle, VP, MUFG Union Bank