In partnership with Josh Bresler, the managing director of Thomas H. Lee's automation fund, IRPA AI's Daniel Goodstein hosts an expert panel on "Going beyond RPA and the shift towards Intelligent Automation" with leaders from PwC Labs, IBM's Cognitive Process Automation Group & Avasant.
In this panel, we discuss:
– why most RPA users are seeking intelligent automation
– the low-hanging fruit for intelligent automation
– how has COVID has impacted the deployment of automation
– advice for evaluating intelligent automation offerings
For a free briefing with one of IRPA AI's subject matter experts, go to http://bit.ly/buyerbriefing or click "Ask an Industry Expert".
For Intelligent Automation training, visit http://www.irpaai.com/ciap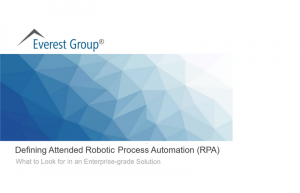 Articles, White Papers
Defining Robotic Process Automation: What to look for in an Enterprise-grade solution. This research explores the attended RPA journey from an enterprise practicioners' perspective and identifies capabilities that matter most to enterprises. It also looks at how mature enterprises have deployed attended RPA at scale to provide insights into the product capabilities for which enterprises have a greater preference.
Read More »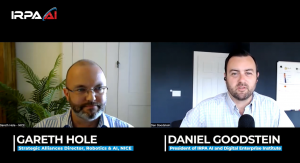 Articles, White Papers
Gareth Hole, Strategic Alliances Director for Robotics and AI at NICE, explains how augmented automation can enable contact centers to have more meaningful conversations with customers, ensure compliance in complex sales and service situations and coach employees in real time.
Read More »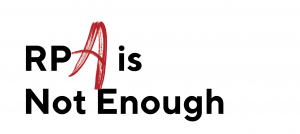 Articles, White Papers
The healthcare industry of today is overburdened by high costs, incredibly high volume, and stringent regulations. These pressures can challenge the quality and urgency of patient care.
Read More »